with Camille Rowe

episode 1: nice to meet you, i'm the zodiac

Camille Rowe, host
Hey everyone! This is Camille Rowe and you're listening to Chill Cases, where we talk about unresolved, unexplained, and unforgottable cases all over the globe. Today we have a special guest, he's been on Doctor Who, Once on Broadway and West end, and can be currently found playing a time traveling rogue named Rip Hunter on DC'S Legends Of Tomorrow! He came all the way from England and actually canceled on the Queen to be here tonight.. it's Arthur Darvill! So if you have anything that you want to plug so people pay for your rent you can do it now.

Arthur Darvill, actor and musician
Can I just ask for people to send me pizzas instead? Because pizza or cake. But thanks for having me on here even though I'm the worst choice for your first I'VE DONE LIKE TWO PODCASTS BEFORE. Do I have to be funny? I hope you're not counting on me to be funny.

Camille Rowe, host
I mean you can but I feel like you'll have to give out your address or they can send it to my place. BUT I AM NOT BECAUSE I AM NOT FUNNY EITHER. I swear to God, don't even worry about it because I feel like this will all end with me snorting so you're good, you're the golden boy of this place.

Arthur Darvill, actor and musician
THANK GOD ALTHOUGH I MEAN I BEG TO DIFFER but what doesn't end with you snorting?

Camille Rowe, host
THAT IS A QUESTION FOR ANOTHER DAY. ANYWAY, so you know that I'm part French and also part from California and since you're not American at all, I figured that the best way to really get this going was to bring you back into my backyard. So we're gonna be talking about the Zodiac killer, also known as Ted Cruz for all you people who are into politics. THAT WAS LIKE A BIG THING IN AMERICA, IF YOU DIDN'T KNOW ABOUT THAT.
---
timeline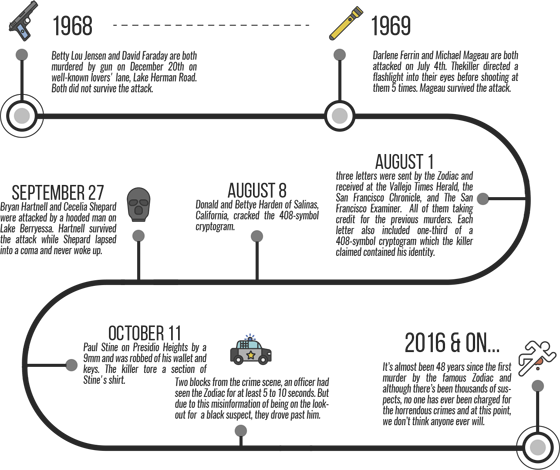 suspects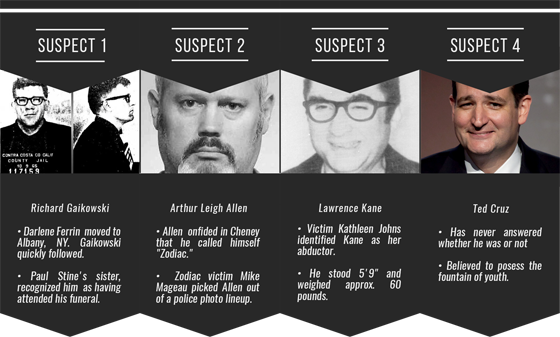 ---